SCOTT W. CAMPBELL
Scott Campbell is a Professor in the Department of Chemical & Biomedical Engineering at the University of South Florida. He has been at USF since 1986 after receiving Chemical Engineering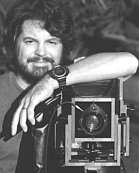 degrees from Youngstown State University (B.E., 1981) and Northwestern University (M.S., 1983, Ph.D., 1986). Currently, he is the Undergraduate Advisor for the department.
Scott's teaching interests are varied. He teaches Thermodynamics and Transport Phenomena at both undergraduate and graduate levels, developed and teaches a course in applied differential equations, and currently teaches the Chemical Engineering Laboratory sequence. He offers elective courses in environmental modeling at both undergraduate and graduate levels. His research is in the areas of fundamental thermodynamics, monitoring and modeling of environmental pollutants, and contamination in semiconductor devices.
Scott has been active in high school outreach programs. He was an instructor for the USF Math and Engineering summer program for high school students for seven years and offered a course to Gaither High School's pre-engineering program over a four year period. Currently, he is working with a group of Mathematics and Life Sciences faculty at USF on reforming the calculus curriculum.